Today's Dietitian Symposium in Scottsdale, Arizona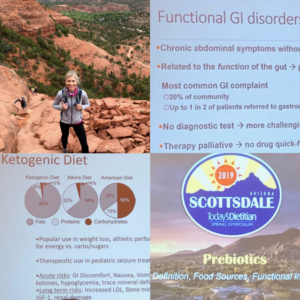 Earlier this month our registered dietitian, Claire Allen, had the opportunity to attend the Today's Dietitian Symposium in Scottsdale, Arizona, while also doing some hiking in beautiful Sedona, Arizona.
Always looking to learn and expand her horizons, she returned from the conference with new evidenced-based resources on topics such as food allergies and adverse food reactions, functional GI disorders, the low-FODMAP diet, nutrition and cancer myths, prebiotics, the ketogenic diet, and dietary phytochemicals and human health.
Interested in learning more about these topics and how they affect your health? Schedule a nutrition session with our practice registered dietitian today at 224-407-4400 or visit our website at www.compgihealth.com. 
Claire is a registered dietitian with expertise in weight management, as well as great interest and focus in irritable bowel syndrome, Crohn's disease, and ulcerative colitis. Claire believes that "all foods fit," but loves to help find the best fits for each individual.
Latest posts by Claire Allen, MS, RDN, LDN (see all)