TEETH BRUSHING HELPS REDUCE COLON POLYPS (and DIABETES)!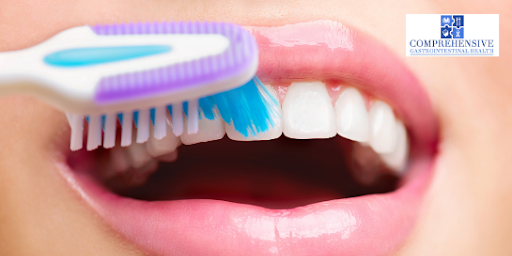 TEETH BRUSHING HELPS REDUCE COLON POLYPS (and DIABETES)!
A recent study was highlighted in Gastroenterology and Endoscopy News about regular dental care lowering the risk of precancerous colon polyps!
"The benefits of good oral hygiene don't stop with a sparkling smile and healthy gums. Frequent dental visits, presumably a marker of good periodontal health, appear to be linked to a lower risk for adenomas and sessile serrated polyps [precancerous colon polyps]."
"We think that dental care may affect the microbiome. We found that for frequent dental visits, compared with no visits, there was at least a suggestion of a protective effect," said Samara Rifkin, M.D., of the Johns Hopkins University School of Medicine.
"Recent clinical studies have associated novel features of microbial dysbiosis with colorectal cancer, including a history of periodontitis and the presence of invasive biofulms and oral bacteria in colorectal cancer tissues…"We think detection of oral bacteria may be associated the beginnings of colon cancer," Dr. Rifkin said. While such associations are merely speculative at this point, she added, "maintaining good oral health may be a potential strategy to prevent colorectal cancer."
Even more reason to take amazing care of your pearly whites is this recent article highlighted in Healio that links frequent teeth brushing with reduced risk of type 2 diabetes.
Helio: Frequent tooth brushing may reduce type 2 diabetes risk
"A cohort of Korean adults who reported brushing their teeth at least three times per day were less likely to develop type 2 diabetes during 10 years of follow-up compared with those who brushed once daily or less, with the presence of periodontal disease and missing teeth further increasing disease risk, according to findings published in Diabetologia."

"Because periodontal disease is a microbially triggered chronic inflammatory disease, associated systemic inflammatory reactions from the invasion of oral bacteria and release of inflammatory mediators could affect glycemic control," Tae-Jin Song, MD, PhD, FACS, assistant professor in the department of neurology at Mokdong Hospital at Ewha Womans University College of Medicine in Seoul, South Korea, said in the study background."
Although we are not dental professionals, we strongly endorse behaviors that will positively impact your health and wellness, so BRUSH YOUR TEETH and floss regularly and keep up with regular dental health appointments!
You can also use this downtime to get scheduled for your colon cancer screening for the future! Extra SATURDAYS have been added for late spring and summer and some appointments are still available!
Come check out Comprehensive Gastrointestinal Health, a new style of gastroenterology practice and endoscopy center located in Northbrook. Our team includes a gastroenterologist, nurse practitioner, dietitian, and behavioral coach/counselor.
Convenient early morning and Saturday appointment times, a deluxe "spa-like" comfortable environment, and the highest quality technology and techniques, aim to make the process as pleasant, effortless, and efficient as possible, while simultaneously maintaining the highest quality and safety standards.
Check out the website for more details compgihealth.com or call 224.407.4400 for an appointment!

Latest posts by Dr. Tara Troy
(see all)