Volume 1 of #CGHbookshelfie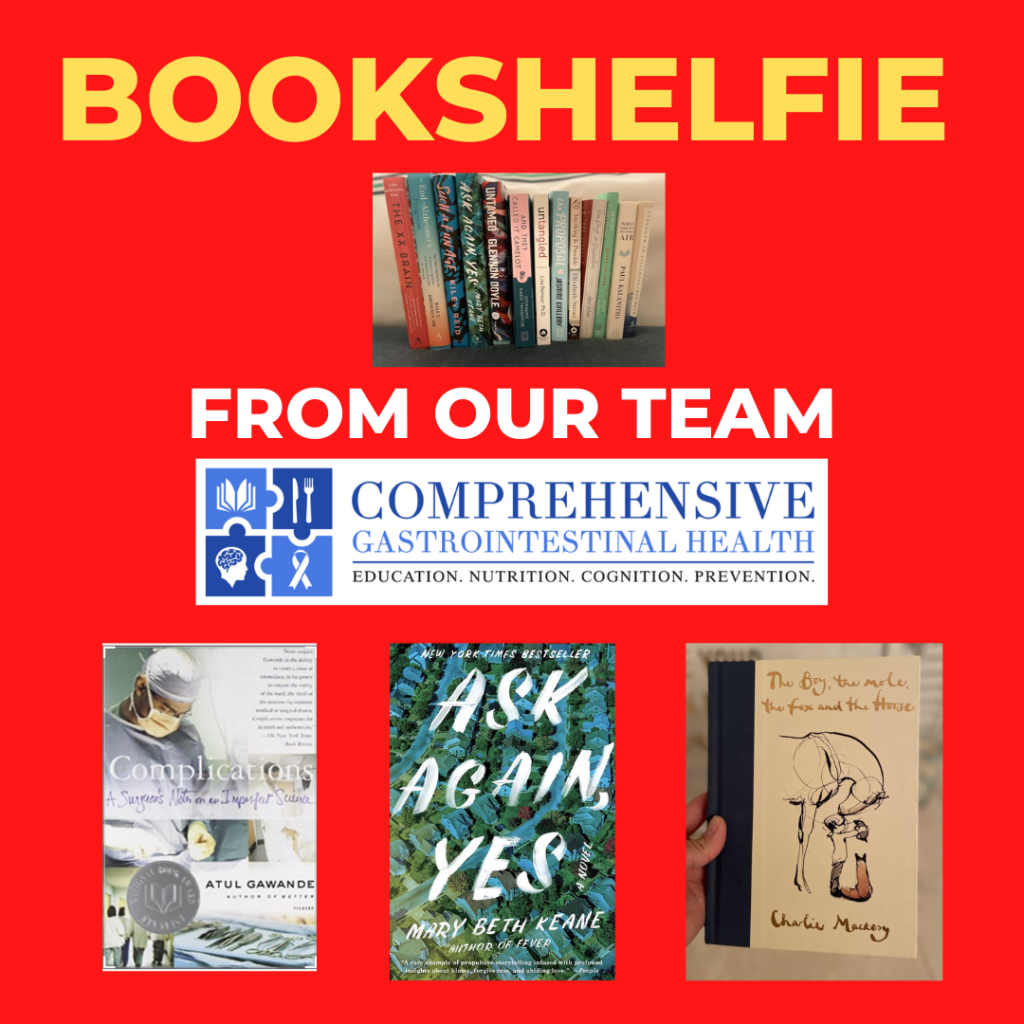 Volume 1 of #CGHbookshelfie
By Jen Buettner, RN, BSN
I decided to try a new blog entry that captures a few staff picks at Comprehensive Gastrointestinal Heath. It's just in time since we are going to have lots of time in our homes.  At the start of the Covid pandemic, I spent a lot of time reading, binge watching various Netflix series, and spending quality time with my family.  I've decided to give some highlights of books that may help you either educate yourself on a hot topic, refamiliarize yourself with old subject matter, or just help pass the time while indoors. When picking a book to read, I love asking my friends and family on what recent books they've read that either lifted their spirits, inspired them, shifted their perspective, or made them wish there was a sequel after they came near the end.  I love receiving book recommendations on a variety of topics that gave me another lens to look at things.   Lately, my choice of books covers a span of topics; diving deep into educational books to books that assist in escaping reality.   Whether it be a light read or a profound book, or revisiting a classic, I hope you are inspired and content during your time at home.   Stay well and Enjoy!  Please feel free to share some of your top picks with us at CGH! #CGHbookshelfie 
Dr. Troy's Pick: Complications, a nonfiction book collection of essays written by a surgeon Atul Gawande.  He wrote this during his general surgery residency at Brigham and Women's Hospital and details his discoveries of the limitations and flaws of modern medicine.  
Jen Buettner's pick: Ask Again Yes, a multigenerational family drama between two families written by Mary Beth Keane.  The story Is about life: full of romance, loss, family and forgiveness.  The well written novel consists of all the elements that make a great book: a good storyline, compelling characters, satisfying writing style, and lastly a lasting impression. It made me think about the importance of mental health and struggles and the importance of seeking help.   Imperfectly perfect book to read a story told through multiple narrators all of which are intertwined by their complex relationships.  A bit heavy, but one that has a lasting impression.  
Jen's kids pick: The Boy, the Mole, the Fox and the Horse, #1 New York Times bestseller, Wall street journal bestseller, USA today best seller, by Charlie Mackessy. A book that I share with my kids to give them lightness during this ever-changing world.  The author offers inspiration and hope in uncertain times in this beautiful book, following a tale of a curious boy, a greedy mole, a wary fox, and a wise horse who find themselves together in sometimes difficulty terrain, sharing their greatest fears a and biggest discoveries about vulnerability, kindness, home friendship and love.  The shared adventures and important conversations between four friends are full of life lessons that have connected with readers of all ages.   
Call us at 224.407.4400 for an appointment or visit compgihealth.com to learn more of what our team has to offer for your physical and mental well-being.
Latest posts by Claire Allen, MS, RDN, LDN
(see all)