MEET OUR NEWEST REGISTERED DIETITIAN – DANIELLE GENENZ!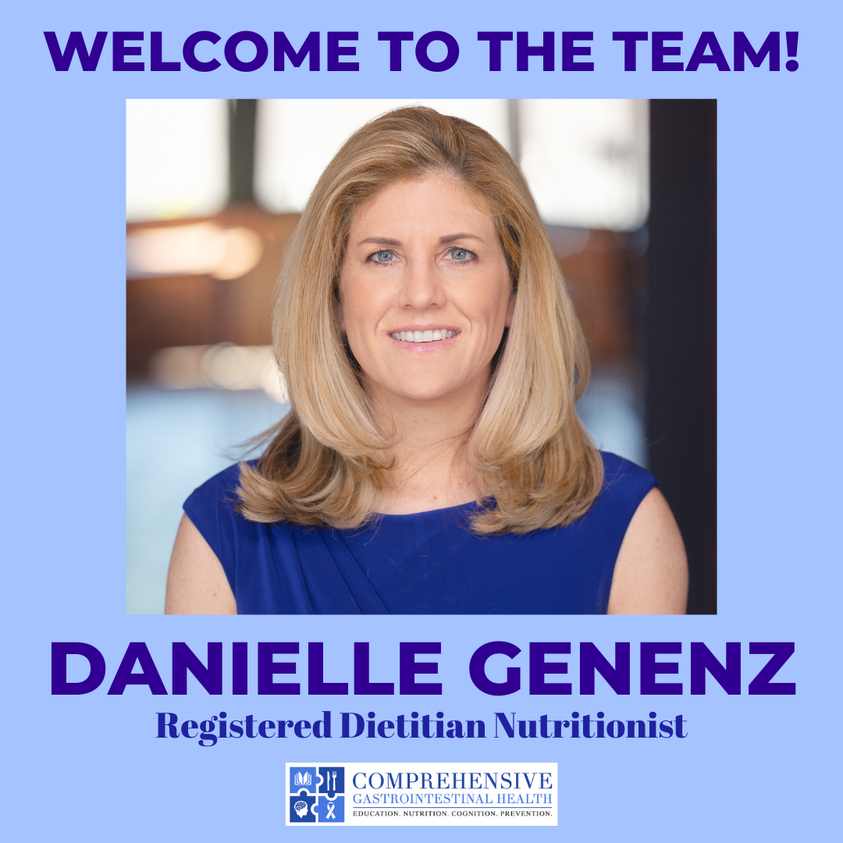 MEET OUR NEWEST REGISTERED DIETITIAN – DANIELLE GENENZ!
Welcome to Comprehensive Gastrointestinal Health, Danielle! We are so lucky to have another brilliant nutrition expert to join our caregiver team. Learn more about Danielle below and come visit us soon to help with any gastrointestinal health and wellness concerns that you have. Call 224.407.4400 or visit compgihealth.com for an appointment!
EDUCATIONAL BACKGROUND
Danielle has been a registered dietitian for over 22 years and certified fitness instructor for over 17 years. She earned her MS degree in nutrition and dietetics from Northern Illinois University and BS degree from Bradley University. Her career started in nutrition research at Rush University Medical Center which launched a 14-year specialty in health coaching for corporate wellness in the areas of weight management, chronic condition management, fitness, tobacco cessation, and stress management. More recently, she worked in program development and delivery for bariatric surgery and training others in health coaching before her finding her new home at Comprehensive Gastrointestinal Health.
PHILOSOPHY
Danielle feels that good health equals freedom and is the foundation for everything in life. She has experienced the power of a plant-based, nutrient rich diet and regular activity in her own healing process and empathizes with others in their struggles to improve their health. She specializes in translating complex, science-based health information into simplified, real-life application in a collaborative format. Compassion and deep listening skills help provide the path to help individuals overcome barriers, achieve self-discovery, and produce self-empowerment to lead a healthy lifestyle.
PERSONAL LIFE
When Danielle doesn't have her nose in a book, she volunteers at a local animal shelter, dabbles as an amateur landscape and macro photographer, enjoys gardening, mosaics, Zumba and running. Her and her husband love traveling the globe and often go on bicycle rides which includes carting along their dog (Frannie) and bird (Harley).

Latest posts by Dr. Tara Troy
(see all)