FOUR WAYS TO REDUCE SUGAR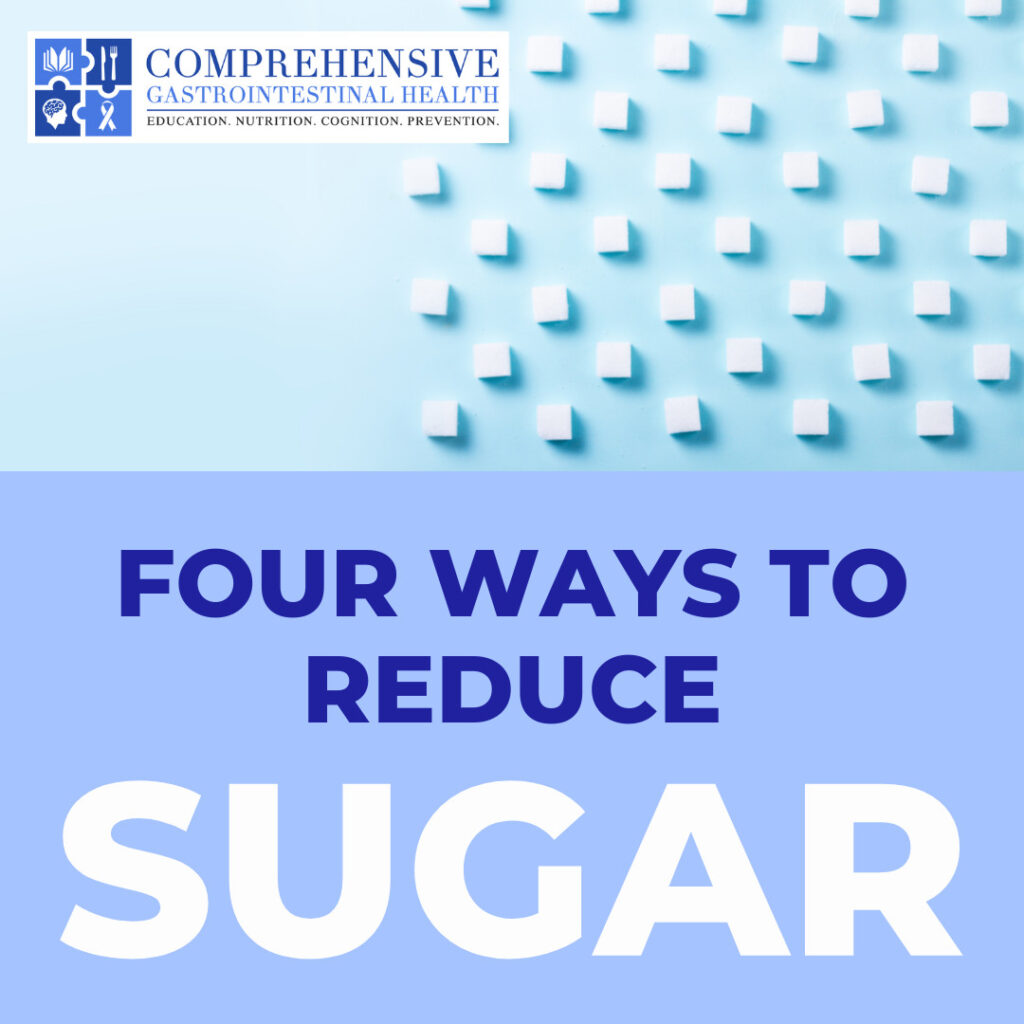 The holidays are a time of social gatherings and cheer but can often leave us feeling like we need a food cleanse by New Years. Instead of embarking on a restrictive diet that will likely provide unsustainable results, first try to simply reduce the amount of refined or added sugar you consume daily.
Sugar is a simple carbohydrate that your body converts to glucose for energy. The effect on your body and health, however, depends on the type of sugar that you are consuming. "Natural" sugars are found in fruits (as fructose) and dairy products (as lactose). These sugars are components of foods that provide essential nutrients, therefore should not be avoided unless due to a confirmed allergy or gastrointestinal intolerance. "Refined" sugars may originate from several sources, such as sugar cane or beets, or may be chemically derived from corn starch, as in the case for high fructose corn syrup. These sweeteners provide minimal nutritional value, and excess consumption has been associated with weight gain, fatty liver, type two diabetes, cardiovascular disease and various cancers.
If you are looking for a safe and healthy way to "cleanse" your body after this holiday season, try starting with the following tips:
Read food labels: Refined sugar can be disguised in many forms and is often listed under different names in the ingredients section of a food label. The closer the ingredient is to the top of the list the higher content there is in the food. Try to limit to one ingredient per serving. Common nicknames include agave nectar, brown sugar, brown rice syrup, cane juice, corn syrup, high fructose corn syrup, crystalline fructose, fruit juice concentrate, honey, maple syrup, dextrin, dextrose, malt syrup, maltose, molasses, sorghum.
Know your breakfast: Granola, packaged cereal, Greek and regular yogurts often contain added sugar for flavor. Keep in mind that honey, agave, brown sugar and maple syrup are all forms of refined sugar and have the same effects on the metabolism. Rule of thumb: keep these ingredients to a minimum.
Healthy substitutions: Adding fruit or cinnamon to your breakfast is an excellent way to provide sweetness and anti-inflammatory benefits. Fruit also contains fiber, which provides satiety, helps to prevent blood sugar swings and reduce carbohydrate cravings. Steer clear of artificial sweeteners as research indicates these may reduce the diversity of our gut microbiome which has negative implications on overall health.
Known your cocktail: Pre-mixed drinks such as margaritas, fruit juice mixers and tonic are loaded with added sugars. Better options would include red or white wine or distilled alcohol with club soda and a lemon or lime. Better yet, take a break from alcohol altogether and opt for sparkling water or fruit infused water.
Feeling a little sluggish after the holiday season? Book an appointment with our registered dietitian at 224-407-4400 or at www.compgihealth.com to discuss how you can improve your energy in 2023!
LATE BREAKING NEWS
Our team of providers has just gained the assistance of an exceptional GI psychologist, Sharon Jedel. Over the last sixteen years, Dr. Jedel has been a faculty member at Rush University in the Section of Gastroenterology and Hepatology and has worked extensively with patients with a variety of gastrointestinal conditions. She has a deep understanding of the mind-gut connection and the interplay of emotional and mental health with GI symptoms and weight management. Dr. Jedel uses an integrative approach toward her work with patients, combining cognitive behavioral therapy techniques to help patients manage their physical and emotional symptoms with insight-oriented therapy to assist patients in achieving a deeper understanding of their feelings and experiences. Utilizing this approach and working collaboratively with patients, Dr. Jedel helps to empower patients to effect change–a transformative process that can enable individuals to endure fewer GI symptoms and enjoy a greater sense of well-being.
Dr. Jedel starts in December and also cares for mental health concerns WITHOUT any gastrointestinal issues. Call 224.407.4400 to schedule a consultation!